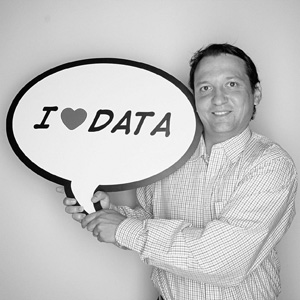 Santiago Restrepo
Founder & CEO
Santiago is the head of ConsumerGoodsAnalytics.com. He is a Business Intelligence (BI) and Analytics professional with proven results in envisioning, implementing and embedding BI & Analytics Strategies for the Marketing and Sales areas. Currently, he is a Client Service Executive for a prestigious strategic consultant company, in a division that provides advanced analytics solutions as a service. He recently left HanesBrands, where he was Director of Business Intelligence & Analytics, supporting the sales, marketing and retail organizations. Previously, Santiago worked for Whirlpool Corporation, where he managed teams dedicated to marketplace insights, category management and marketing /retail analytics. He also led the implementation and embedment of SMART (Sales & Marketing Analysis & Reporting Tool), a BI system that integrates multiple syndicated, marketplace and internal data sources.
Alex Schenker
Co-Founder and Partner
Alex is a co-founder of ConsumerGoodsAnalytics.com. He is the CEO of Cover Story Media, Inc., where he leads all corporate strategy and sets the vision for the future of the company. With over 11 years experience working as a web developer and content marketer, he has a unique mix of talents in web development and business which is founded in his education. Alex holds two degrees - one in Management Science from the University of California at San Diego and a second in Computer Science from the New Jersey Institute of Technology. Alex grew up in Zurich, Switzerland and Los Angeles, CA but currently lives happily in Winston Salem, NC with his wife and their sweet dog, Bella (Yellow Lab). He is an avid tennis player and hiker, and often has to flip the coin when it comes to visiting the mountains or beach, although on any given day he's partial to basking in the sun on an isolated shoreline while catching a couple of waves.
Michelle Schenker
Co-Founder and Partner
Michelle is a co-founder of ConsumerGoodsAnalytics.com and the COO at Cover Story Media, Inc. She brings 14 years of corporate business experience, having led strategic planning, brand management and growth efforts for major national brands including Bank of America, Mattel Toys & Games, Hanes, Salem Baking Co. and licensed products including Harry Potter and Batman. A perfect combination of left-and-right-brained. Michelle holds undergraduate and graduate degrees in business and marketing, and has career experience in finance, marketing and strategy. Michelle has lived in the city of Angels, the birthplace of the Declaration of Independence, the heart of Country music, and in the shadow of the Eiffel Tower but has chosen Winston-Salem, NC, to call home. She enjoys yoga, hiking, indie films and watching bad reality TV.